We are taking orders for 2023 Nucs & Queens. Visit our bee page for details and ordering information.

The 2023 Workshop Schedule is now open for signup. See Classes & Workshop page for dates and descriptions of the workshops.


Welcome to the Warm Colors Apiary website. WCA produces and sells honey, pure beeswax candles, and products using honey and beeswax. We provide pollination services to local orchards and farms. Beekeepers can purchase queens and honeybees and attend workshops in the Warm Colors bee yards. In other words, most activities involving honeybees happen at our apiary.
We continue to sell directly from our Warm Colors Apiary location. We conduct sales of honey, products Bees and Queens by appointment keeping the store closed to the public. Call 413-665-4513 to place an order for honey, candles or Russian Bees & Queens. We are currently scheduling pickups on Wednesdays & Saturdays. We will do our best to accommodate your schedule. You will be called back to confirm a time and day.
We specialize in Russian Queens and spring Nucs as members of the Russian Honeybee Breeders Association. All our Queens come from Apiaries' "Certified" by the RHBA Board of Directors annually. Warm Colors has been a "certified" apiary since 2016. Queens are $40.00 each. We are not shipping Queens at this time. Queens will be available in May & June 2023. Email Dan at warmcolors@verizon.net to request an order form for Nucs & Queens. Nucs are scheduled to be available for pickup the end of April or early May.
Looking for more information about the Russian honeybee and the Russian Honeybee breeding program's history? I suggest reading "The Russian Honeybee" by Thomas Rinderer and Steven Coy. You can purchase a copy on Amazon, or better yet buy directly from Steven Coy and ask for a signed copy. Call: 601-716-3080, or email: Steven@coybeecompany.com ask for the book.
Also visit the official website of the Russian Honeybee Breeders Association www.russianbreeders.org
Watch a video interview of Dan Conlon on WGBY (September 2019)
Warm Colors Apiary was founded in 2000 to produce regional honey from flowers in western Massachusetts. Located on eighty acres of woodland, open fields, and wetlands, the land provides a variety and abundance of nectar & pollen plants that bloom from early spring to late fall. Having a location with flowering plants blooming successively throughout the warm months makes our apiary ideal for honey production and the raising of honeybees.
Our mission is to develop, test, and use beekeeping methods that improve the health of the honeybee. Through selective breeding, we endeavor to manage a sustainable apiary system that minimizes the use of harmful chemicals and employs the natural defenses and heritable behaviors shown to improve the honeybee's mite tolerance and resistance to disease.
Our goals include raising honeybees capable of surviving the rigors of a New England winter and having the individual & social immunities to withstand the stresses associated with honeybee decline. Our work focuses on using the best available breeding stock, providing natural sources of forage and nutrition, and the early detection and prevention of disease and pests. Proactive management that reduces stress and the resulting problems, before they become too serious to correct, is our long-range goal.
BEEKEEPING EVENTS
Beekeeper Events: The Franklin County Beekeepers' Association has started holding in-person and on-line meetings. Visit the FCBA website www.Franklinmabeekeepers.org for current information. Meetings are scheduled for the third Thursday of each month 7PM-9PM. No meetings are scheduled for December, June, or September.
MARCH 16th, 2023 – Meeting at Warm Colors Apiary 7-9PM. Rick Church speaking on "Preparing Bees for Spring". Open to all who are interested in bees and beekeeping.
FCBA uses ZOOM for some of our meetings. We have found on-line meetings open us up to presenters too far to attend a meeting but can still provide excellent information. We have also been able to invite FCBA members to participate in meetings hosted by other clubs statewide and nationally. Zoom is a venue that allows us to communicate beyond our local programs.
Visit the Franklin County Bee Association's website for up-to-date meeting information. These events are open to all interested people. Membership to FCBA is $10. individual and $15. for a family. Visitors are always welcome.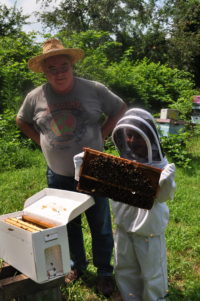 News:
July 31st – August 4th, 2023, The Massachusetts Bee Association will sponsor the Eastern Apicultural Society's meeting at the University of Massachusetts. The Franklin County Bee Association will be hosting this national beekeeper conference. It is an educational weeklong bee event that brings dozens of expert beekeepers together providing up to date information, workshops and training. It has been over twenty years since Massachusetts last hosted the EAS annual conference. A must attend meeting for all beekeepers.
Dan Conlon interview on "Beekeeping Today" with Kim Flottum and Jim Tew: Dan Conlon: It's All About The Russians (Russian honey bees, that is)
Warm Colors Apiary received the 2018 "Local Hero Award" (farmer of the year) from CISA (Community Involved in Sustainable Agriculture) and a Congressional Award recognizing Warm Colors Apiary for our outstanding and invaluable service to the community from Congressman James McGovern. Bonita & I appreciate these honors from people and organizations we respect and support. CISA and Congressman McGovern promote nutrition, farms, and access to fresh foods for all Massachusetts residents. We share their philosophy that all people deserve fresh, nutritious food. We thank CISA and Congressman McGovern for their ongoing commitment to making local food available to all citizens.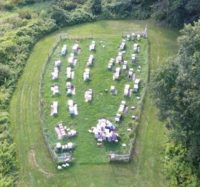 Knowledge + Management = healthy bees.
WordPress Theme Custom Community 2 developed by Macho Themes