PLEASE NOTE: THIS WEBSITE IS CURRENTLY UNDER RECONSTRUCTION

We hope to have all pages back and fully functional before too long. Thanks for your patience.
Welcome to the Warm Colors Apiary website. WCA produces and sells honey, pure beeswax candles, and products using honey and beeswax. We provide pollination services to local orchards and farms. Beekeepers can purchase queens and honeybees, and attend workshops in the Warm Colors bee yards. In other words, most activities involving honeybees happen at our apiary.
We are closing the apiary on the following dates: June 21st through the 25th (Open Saturday 26th), July 19th – 23rd (Open Saturday 24th), and August 23rd – 27th (Open Saturday 28th). We will not be available for pick ups on these dates. There will be delays returning phone calls and email messages.
COVID restrictions have been lifted by Governor Charlie Baker. Wearing masks will no longer be required at Warm Colors Apiary. Bonita & Dan have been vaccinated. We strongly suggest that you continue to wear a mask if you did not receive the vaccination for your protection. We will continue to conduct sales of honey, products and Queens outdoors keeping the store closed to the public. Call 413-665-4513 to place an order for honey, candles or Russian Queens. We are currently scheduling pick ups for Wednesdays & Saturdays.
We have been so appreciative of the continued support so many of you have shown during this incredibly worrisome time. Warm Colors Apiary continues as a result of so many loyal customers and friends going out of your way to stay connected. Our working & living with bees, in a beautiful western Massachusetts landscape provided relief from much of the stress. Bonita and I agree we are fortunate, when others struggled with illness & finances. We belong to a community of people that pull together and help each other. That is the positive message we received during the year of COVID.
Changes for the Summer 0f 2021 include a return to the regular workshop format of in person classes. Bring your protective clothing for the bee yards, and call 413-665-4513 the night before to confirm times. We do not cancel or postpone unless weather conditions prohibit our working with the bees. Workshops are a combination of lecture, and hands on time. Typical presentation time 2 1/2 hours.
We no longer sell equipment & supplies. Please consider buying equipment from Maggie's Farm, Leyden Rd. Greenfield, MA. for your woodenware. Matt Guertin has been building his apiary and includes bee equipment as one of his offerings.
Queens are now available for pick up at Warm Colors, South Deerfield Apiary. We specialize in Russian Queens as members of the Russian Honeybee Breeders Association. All our Queens come from Apiaries' "Certified" by the RHBA Board of Directors annually. Warm Colors has been a "certified" apiary since 2016. Queens are $38.00 each. We are not shipping Queens at this time.
Watch a video interview of Dan Conlon on WGBY (September 2019)
Warm Colors Apiary was founded in 2000 to produce regional honey from flowers in western Massachusetts. Located on eighty acres of woodland, open fields, and wetlands, the land provides a variety and abundance of nectar & pollen plants that bloom from early spring to late fall. Having a location with flowering plants blooming successively throughout the warm months makes our apiary ideal for honey production and the raising of honeybees.
Our mission is to develop, test, and use beekeeping methods that improve the health of the honeybee. Through selective breeding, we endeavor to manage a sustainable apiary system that minimizes the use of harmful chemicals and employs the natural defenses and heritable behaviors shown to improve the honeybee's mite tolerance and resistance to disease.
Our goals include raising honeybees capable of surviving the rigors of a New England winter and having the individual & social immunities to withstand the stresses associated with honeybee decline. Our work focuses on using the best available breeding stock, providing natural sources of forage and nutrition, and the early detection and prevention of disease and pests. Proactive management that reduces stress and the resulting problems, before they become too serious to correct, is our long-range goal.
BEEKEEPING EVENTS
Beekeeper Events: COVID restrictions are now being lifted and some return to normalcy is underway. The Franklin County Beekeepers' Association has started holding in-person meetings in outdoor locations. Our regular meeting place (South Deerfield Senior Center) is not yet approved for indoor gatherings. June, July and August will be hosted at member apiaries, and the topics will focus on bee management.
FCBA will use ZOOM for some of our future meetings. We have found on-line meetings to open us up to presenters too far to attend a meeting, but can still provide excellent information. Our recent meeting with Larry Connor "Essentials of Package Bees" was well received and Dr. Connor was able to present from his home in Michigan. We have also been able to invite FCBA members to participate in meetings hosted by other clubs statewide and nationally. Zoom is a venue that allows us to communicate beyond our local programs.
Visit the Franklin County Bee Association's website for up to date meeting information. These events are open to all interested people. Membership to FCBA is $10. individual and $15. for a family. Visitors welcome.
Franklin County Beekeepers Association – Thursday, June 17th, 6:30 – 8:30 PM. Meeting will take place at Warm Colors Apiary. Dan Conlon will present a demonstration on how to split colonies to make increase to your apiary.
Franklin County Beekeepers Association – Thursday, July 15th, 6:30 – 8:30 PM. Topic is FCBA's Pollinator Garden Awards. Amy & David Moscotollo's in Greenfield, MA.
Franklin County Beekeepers Association – Thursday, August 19th, 6:30 – 8:30 PM. Topic is Preparing Your Hives for Winter. – Location TBA
Dan's Public Events
Dan's On-line Schedule: Please note you must be invited by the host or pre-register to attend these presentations. Contact the listed association to sign-up for the scheduled time & Date. Time & Date may change. Confirm with host association before signing into the presentation. Many are recorded and can be viewed at a later or more convenient time. Contact the host club for access.
2/25 Kim Flottum's Beekeeping Today – Podcast. Many archived interviews on a wide range of bee topics by expert sources. Open to anyone.
2/28-3/2 SEMAP Conference – recordings no longer Available.
3/9 Tennessee Bee Association TUBA – Russian Honeybees – recording available.
3/16 Medina Bee Association MCBA – Russian Honeybee Management.
3/21 Warm Colors Apiary WCA – Beginning in Beekeeping #1. – recording no longer available.
3/31 Norfolk County Bee Association NCBA – Recordkeeping – Bee School.
7/27 Backyard Beekeepers Association BYBA – Queen Evaluation.
We look forward to things returning to a normal and a safe schedule where we can again enjoy talking about bees and seeing friends at meetings. Franklin and Hampshire Counties has an active community of dedicated beekeepers.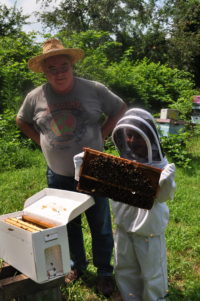 News:
Dan Conlon interview on "Beekeeping Today" with Kim Flottum and Jim Tew: Dan Conlon: It's All About The Russians (Russian honey bees, that is)
Warm Colors Apiary received the 2018 "Local Hero Award" (farmer of the year) from CISA (Community Involved in Sustainable Agriculture) and a Congressional Award recognizing Warm Colors Apiary for our outstanding and invaluable service to the community from Congressman James McGovern. Bonita & I appreciate these honors from people and organizations we respect and support. CISA and Congressman McGovern promote nutrition, farms, and access to fresh foods for all Massachusetts residents. We share their philosophy that all people deserve fresh, nutritious food. We thank CISA and Congressman McGovern for their ongoing commitment to making local food available to all citizens.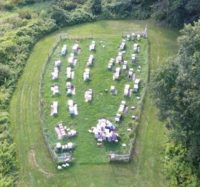 For the Beekeepers
Warm Colors is no longer maintaining an inventory of beekeeping equipment at our South Deerfield store. We will continue to sell a limited amount of equipment (only items we use in our apiaries). As our apiary has grown so has the time required to maintain our bees, produce honey and provide service to our honey customers. Getting out of equipment sales allows more time for our beekeeping. The core of our business remains honey production & raising honey bees.
We recommend ordering from the following equipment suppliers:
Maggie's Farm – Leyden Rd. Greenfield, Massachusetts. Distributor of RHBA Russian bees, and supplier of equipment and supplies for beekeepers. Maggie and Matt Guertin are beekeepers and farmers, producing a variety of crops. Matt has been an employee of Warm Colors for several years and We consider him a valuable asset to our business.
Betterbee Inc. – Greenwich, New York. Full-line of bee equipment & supplies. Friendly service and sound beekeeping advice.
Mann Lake Inc. – Pennsylvania & Minnesota. Full-line of services, shipping included with purchase over $100.
Knowledge + Management = healthy bees.
WordPress Theme Custom Community 2 developed by Macho Themes