We are taking orders by phone or email (413-665-4513, warmcolors@verizon.net).
Leave your name and phone number.
What you are ordering – variety & size.
For repeat customers We will refill your clean Warm Colors honey jar & offer a small price reduction in price – we encourage recycling. Let us know if you will be bringing a jar to refill.
We will call you back to confirm your order & schedule a time and day to pick up the order.
Call 413-665-4513 if you would prefer we bring your order to your vehicle.
Payment is cash or checks only.
Warm Colors honeybees harvest nectar from many sources of western Massachusetts plants. These include Summer, Deerfield, and Fall wildflower honey. We also produce varietals (they contain one primary source of nectar) including our Apple blossom, Raspberry blossom, Basswood, and Buckwheat. Flower nectars have different tastes and colors influencing each variety of honey. There are more than 300 different floral varieties of honey produced in the U.S. annually.
Our wildflower honey represents nectar gathered over an extended blooming period (May and June, or August and September). Wildflower honey contains many flower sources and is blended by the bees over a long blooming period of 4 – 6 weeks.
Varietal honey is produced in short 1 – 2 week bloom periods. They have a dominant nectar source and taste but often include other secondary floral influences. Varietal honey is named after the primary nectar plant. We specialize in honeys produced in the Northeast, and specifically western Massachusetts.
Warm Colors honey is extracted with a minimum of processing. Our honey is kept below 100F during bottling to match ambient temperatures found in the beehive. We use natural "clarification", not filtering, to clear our honey of unwanted particles and debris. Clarification is simply allowing any particles to slowly rise to the top of the storage tank, leaving the bottom honey clear. By bottling from the bottom we fill containers with a clean, unprocessed honey. We make every effort not to degrade the taste or beneficial qualities of the honey.
WCA honey can be purchased at our South Deerfield shop and at local stores, farm stands and food cooperatives (See Local Businesses selling Warm Colors Honey). Some honey is seasonal as it is produced in limited quantities. Varietals are not produced every season, due to weather conditions and lack of plants in bloom.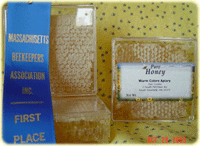 Comb honey – untouched by human hands.
Cut Comb Honey – This comes from the honey frame just as the bees produced it – 4×4 sections can vary by weight. We do not always produce comb honey as it requires strong colonies early in the season and weather conditions that encourage high nectar production. The bees need strong foraging populations, comfortable flying conditions, and a balance of moisture and sun to produce beautiful comb honey.
Cut Comb Sections $15.00 to $18.00
Summer Wild Flower – Light in color. Represents the combined floral nectars of plants that bloom mid-May through June. One of our best New England honeys. It is harvested in July.
Jar Type Size Price Ea.
Glass 8 oz. $6.50
Glass 16 oz. $11.00
Glass 32 oz. $20.00
Glass 5 lb. $44.00
Plastic 12 lb. $90.00
Apple Blossom – Light amber with a mild fruit flavor. Perfect for teas or toast. Harvested in late May after Apple blossom pollination. This is our first honey of the season and our smallest yield as a specialty honey. When orchards have a bumper crop we see a nice harvest of Apple blossom honey.
Jar Size & Price
Glass 8 oz. $6.75
Glass 16 oz. $12.00
Glass 32 oz. $22.00
Glass 5 lb. $46.00
Plastic 12 lb. $95.00
American Basswood – light amber, with a distinct taste. Harvested late June to early July. We enjoy this honey for its minty aroma when added to tea or coffee. Basswood is related to the European Linden tree found along city streets. Once prized as a wood used in furniture manufacturing, it is now a common nectar source for pollinators and when blooming is alive with foraging bees & insects of all kinds.
Check on availability. Prices same as wildflowers.
Raspberry Blossom – is a local favorite. Dark amber with an excellent flavor.
Jar Size & Price
Glass 8 oz. $6.75
Glass 16 oz. $12.00
Glass 32 oz. $22.00
Glass 5 lb. $46.00
Plastic 12 lb. $95.00
Buckwheat – produced in the Pioneer Valley. Buckwheat is used, by farmers, as a natural weed control, for soil building, and as a grain. It is number four on the world's medicinal honey list as being high in minerals & antioxidants. Dark with a strong flavor.
Jar Type Size Price Ea.
Glass 8 oz. $6.75
Glass 16 oz. $12.00
Glass 32 oz. $22.00
Glass 5 lb. $48.00
Plastic 12 lb. $96.00
Deerfield Wildflower – medium Amber. One of our best-tasting kinds of honey. A blend of flower nectars from late June through mid-August. This honey has won many blue ribbons in Massachusetts honey shows.
Prices same as Summer Wildflower.
Goldenrod – is now available. Candy flavor. A New England honey that is important to honeybees & beekeepers as a source of food for the winter. It is often the primary food source stored in the colony for winter. Beekeepers leave 60-80 lbs. for the bees and harvest any extra honey for bottling and sale. Harvested in late Fall.
Prices same as Summer Wildflower.
Fall Wildflower (Knotweed) – now available. Dark amber, with a delicious earthy taste. An invasive species that pollinators enjoy for pollen and nectar. Harvested late Fall.
Prices same as Summer Wildflower.
Case Quantities are as follows: Check on availability.
8 oz. – 24 qty. glass jars.
16 oz. – 24 qty.
32 oz. – 12 qty.
5 lb. – 6 qty.
12 lb. – 1 gallon in a plastic pail.