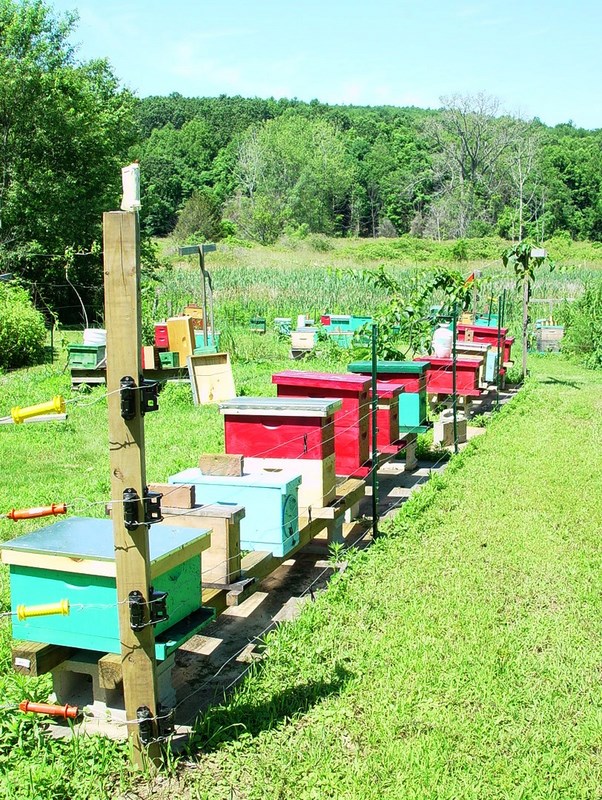 2024 Workshops and Bee Classes
REGISTRATION: Please send your email to warmcolors@verizon.net and request a class form. Dan will send the form as an attachment by reply email.
2024 marks our 24th season teaching new and experienced beekeeping programs. We have introduced hundreds of new beekeepers to honeybees and the management it takes to keep bees and produce honey. This year we are taking a new approach by adding all our workshops to the Beginning in Beekeeping class, and re-thinking our checklist of priorities: starting colonies, producing honey, and providing health management techniques – proven, not experimental or alternative.
Dan has focused on providing the basics to new beekeepers. Getting the hive started, feeding,g and growing the colony, with a minimum of treatment. Just learning the basics no longer provides the foundation for new beekeepers to succeed. 2023 will include the basic prerequisites needed to start a colony but will also include those management skills that help to slow swarming, increase honey production,n and more attention to wintering techniques (the New England final exam). This will provide new beekeepers with a better understanding of the two seasons a beekeeper manages. The first year is about starting and raising a healthy colony capable of surviving the winter. Season two is working with a mature colony that can produce surplus honey, used to increase the number of hives, and requires swarm prevention.
We have updated the materials used in the workshop series. Our strength has always been that we have a proven management system, and we have many colonies to demonstrate our management. We have the benefit of more than fifty years as beekeepers with twenty as commercial beekeepers. Our beekeeping has focused on reducing treatments in hives, improving the bees' natural resistance to disease, and finding the best methods to keep our bees healthy and productive. Warm Colors has benefited from our continued revision of management and learning from past mistakes. This is what we can offer our students. Learning to be a skilled bee person isongoingg and no one ever knows everything. Nature changes, the honeybee adapts, and the beekeeper keeps learning.
Formal classes will continue to be organized around a lecture, handout,s and bee yard demonstrations. Several Zoom meetings have been scheduled for the early presentations. 
We sell books at our South Deerfield shop. These are the references andhow-too books we consider accurate and well written. Visit our store if you are looking for reading material. Many are books written by authors who have visited and taught programs at Warm Colors. These are Dan's picks, and a few include endorsements on the back cover.
Classes and workshops are generally 2.5 hours. Zoom meetings will be scheduled for 1.5 hours.
Lectures that identify & explain key points
Textbooks & Written information
Hands-on demonstrations in the bee yard – We use colonies at Warm Colors Apiary in South Deerfield, MA.
Weekly opportunities to learn by helping at WCA

Hands-on experience and management that provides practical outcomes is our focus
Individual classes and workshops Include class and notes. Each session is approximately 2 1/2 hours.
We will have bees for class participants available for purchase during the first class. Pickup will be scheduled in May.
The complete program is $250. Includes all classes and materials.
1. Starting in Beekeeping #1 (includes all workshops) April 7, 2024, 5:30-7:00 PM – for beginning beekeepers. This will be an on-line Zoom meeting.
This class designed for new beekeepers. We focus on the basic tasks used in managing a first, and second year, honeybee colony. Enrollment in this class gives the new beekeeper access to all our workshops. This session reviews what you will need to get started and introduces you to the behaviors and biology of the honeybee essential for successful apiary management.
Equipment & tools used in beekeeping.
Picking a location – requirements & apiary laws.
Ordering bees – origin of honeybees, package bees, and Nuc colonies.
Distribute textbooks, DVD, bee, and equipment ordering information.
Cost: This class only with book and handout $50.00. Complete series of workshops including all 7seven sessions, notes, books and workshops $250.
2. Starting in Beekeeping #2 April 21, 2024, 5:30 – 7:00 PM – for beginning beekeepers. On-line Zoom meeting.
This session reviews the monthly tasks, and bee colony dynamics the beekeeper must understand to manage a colony. We will discuss beekeeper tasks, actions to correct problems and complete the beekeeper's checklist.
Month by month activity list.
The big three – Queen, worker population and honey & pollen reserves.
Predicting the future of the hive – comb evaluation, calculating growth, diagnosing stress in the colony.
Building a personal management system – information useful for local decision making. Recordkeeping & knowledge-based planning.
Cost: This program only $50. Included in full course.
3. Starting in Beekeeping #3. Beekeeper Tasks and Basics of Colony Management – Sunday May 5th, 5:30 -7:00 PM – Zoom meeting appropriate for all beekeepers.
Topics focus on common tasks and challenges for beekeepers. These include inspecting colonies, diagnosing disease, swarm prevention, Queen evaluation, and corrective options to improve colony survival.
Making Colony Increase – buying bees, splitting colonies, catching swarms.
Pollination – crops, moving bees, evaluating successful fertilization.
Honey Production – supering, wildflowers and varietals.
Managing Hive Maladies – pests & disease.
Cost: This program only $50. Included in full course.
4. Installing Nucs, introducing Queens, and the care and feeding of the New Colony. Date TBA on the weekend the bees arrive. 1 – 3:30 PM. Appropriate for all Beekeepers.
This is scheduled as an outdoor activity at the Warm Colors Apiary, South Deerfield, MA. We will demonstrate setting up Nucs in hive bodies, how to introduce Queens, and methods of feeding a growing colony.
This is a live bee workshop. Please wear protective clothing. If you purchased a Nuc from Warm Colors, you should plan to collect it on this day.
Picking the best Nuc – questions to ask.
Checking the Queen – requirements of an excellent queen.
Setting up the new hive – be ready for your bees.
Introducing a Queen – steps & checks for Queen acceptance.
Installing the Nuc – depends on the weather.
Feeding – feeders, how much, and how long?
Care for Nucs – tricks of the trade.
(No need to register– this program is free.)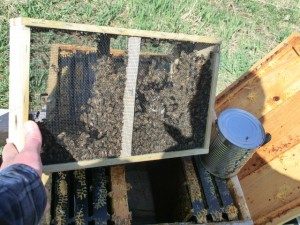 5. Spring & Summer Management – June 9th, 2024, 1-3:30 PM – appropriate for beginners and review for experienced beekeepers.
A review of spring tasks, including hive evaluation, feeding and prevention of disease. Honey production, swarm prevention and early activities commonly performed during spring and summer. Bring protective clothing for bee yard demonstrations. Handouts included.
How to grow your colony – proper feeding, adding space, Queen performance.
Conducting a proper inspection – the importance of recordkeeping and researching tasks.
Mite sampling, the importance of early detection of disease, honey bee defenses.
Swarm prevention & control.
Making colony "splits" and Nucs for apiary expansion.
Increasing honey production – knowing the plants that produce the nectar flows, honey supering techniques, when to extract the honey harvest.
Cost: Program & handout $50. Included in full course.
6. Queens Management & Evaluation – July 6th, 2024, 1 – 3:30 PM – appropriate for second season beekeepers. Beginners are welcome.  
The Queen's ability to lay eggs, pass desirable behaviors (through her genetics) to workers and drones, make her the most important member of a colony. The beekeeper must be able to evaluate the Queen's performance and recognize when a Queen must be replaced. We will discuss Queen development, mating & drones, and evaluation by measuring brood comb, and worker behavior.
We will also provide instruction on raising Queens for the small apiary. In the bee yard, we will demonstrate simple techniques to raise daughters from your best performing Queen. The use of Queen cells, creating emergency conditions to stimulate Queen rearing in the colony, and using Nucs to raise a few Queens will be covered.
Follow up volunteer opportunities will be scheduled for those participants wanting to work with Dan raising Queens at Warm Colors Apiary.
Queen care and handling – comb, nurse bees, and nectar.
Marking queens – age, visual, and genetic lineage.
Predicting worker populations & swarming.
Large scale Queen production.
Small scale Queen production – the true locally grown Queen.
What makes an excellent Queen? Genetics, development and drones.
Program, Textbook & Handout: $65. Included in full course.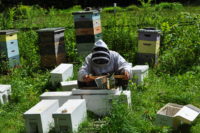 7. Fall & Winter Management – August 11th, 2024, 1-3:30 PM – appropriate for all levels of beekeeping.
The final exam for beekeepers is preparing hives for winter. This begins in early fall when there is still time to correct problems. Queen evaluation, feeding, and winter food reserves, lack of mites and disease will be explained. Wrapping & insulating hives, locations, and equipment will be discussed. Bring protective clothing for the bee yard. Handout included.
What does a healthy hive look like?
Queen, worker population, food reserves and size of the colony.
Varroa mites & Nosema disease key factors in wintering colonies.
Thermoregulation in the hive – masters of temperature control.
External conditions – fencing, windbreaks, sunshine, wrapping & insulating hives.
Cost: Program & Handout $50. Included in full course.